Each year, members of our Revelation Creative team travel to attend the renowned annual marketing convention, MARsum.
When we return, we bring with us a wealth of knowledge and new connections that give us a greater ability to serve our clients in new and exciting ways.
Today, we're sharing our key takeaways from the experience as well as the reason this year was extremely special for us.
Revelation Creative at MARsum 2021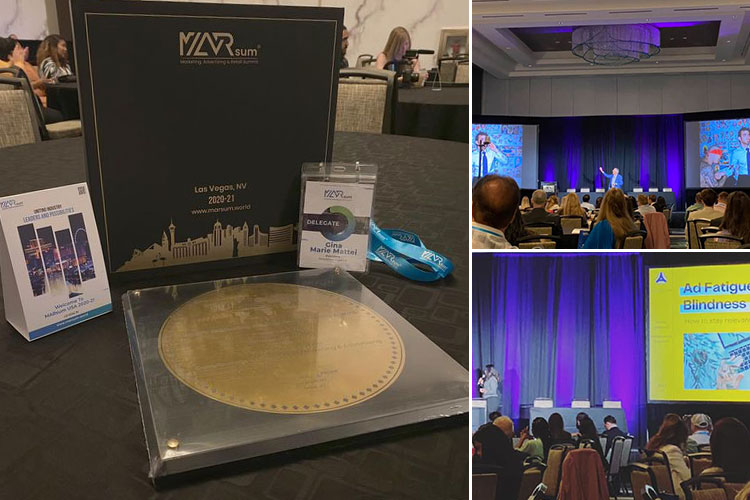 MARsum is a renowned annual convention full of extraordinary speakers, powerful educational sessions, and memorable marketing community experiences. We enjoyed the opportunities to connect with our fellow marketing experts and learned so much about the current and future marketing approaches that will, no doubt, give Revelation Creative an edge as we blaze a trail forward in supporting our clients.
Some of our key takeaways from the event include:
Potential Clients Need More Touch Points Than You Think: When it comes to marketing, you'll need around 8 to 13 touchpoints to get to someone interested and engaged.
We're All Influencers: This was a theme throughout the convention. And it means that we should be taking our leadership to heart. It also means that leadership requires us to step up and allow others to follow us. (The old adage holds true here. "If you are a leader, look behind you. If no one is following you, you're not a leader. You're on a walk.")
Conversion Rate Optimization Is Evolving and Essential: This marketing approach uses deep data to learn about site traffic and user behavior as a way of improving marketing results. As marketing leaders, the Revelation Creative team already works to optimize conversions, and growing our knowledge base in this area gives us an even greater edge in achieving excellence for our clients.
MARsum was an excellent opportunity to network with and learn from industry experts so that we can all sharpen our skills as marketers to provide the best-in-class services to our clients.
Revelation Creative President, Gina Marie Mattei, Honored with MARsum Award
Each year, MARsum presents awards recognizing the exemplary efforts of individuals in the realm of marketing, advertising, and retail.
MARsum 2021 was even more special because Revelation Creative's president, Gina Marie Mattei, was honored as one of 2021's Top 100 Marketing and Advertising Leaders.
In Gina's own words: "I was honored to share the room with so many distinguished experts in marketing and thought leaders in industry. To be recognized with the award for Top 100 Marketing and Advertising Leaders is a truly humbling experience. Over the last 4 years, so much energy and passion has gone into building Revelation Creative and serving our clients with an uncompromising commitment to excellence. My heart is very full to receive this acknowledgment, which is a testament to the strength and talent of our team. This award truly validates that we are delivering on our mantra – Do good."
Beyond MARsum 2021: What's Next for Revelation Creative
Our team will no doubt take all that we've learned at the MARsum conference into the work that we do with our clients.
As we move forward, we'll continue to lead the way as we help you and your business grow and thrive.
To start your marketing journey with Revelation Creative, contact us here.